The weather is heating up, which means it's time to think about cooling down with ceiling fans. Today's ceiling fans incorporate beautiful features, such as hand-carved blades, sleek finishes and natural elements that appeal to a variety of different design trends. However, function is as important as looks, so here's what you need to know when selecting the perfect fan for your lifestyle.
 "Ceiling fans are incorporating new motor technology which uses 75% less electricity than before as well as incorporating LED lighting technology and Wi-Fi/smart home. And that is just the functional part: ceiling fans currently are following design trends with new motor housing/blade materials and finishes, with a trend-forward aim that can make them a focal point of the room."
Ease of Installation: Progress offers ceiling fans that can be installed by one person in one to two hours, or less! To see how easy it can be to get cooling in style, watch our video, featuring the new Montague fan.
Remote Control: Remotes can control fan speed, and some also offer dimming capabilities for added convenience in creating a comfortable and welcoming living area. Most remotes for ceiling fans install easily in the canopy of the fan. Make sure to check the ceiling fan's specifications to ensure the remote is compatible with the model of your fan.
Smart fans offer the latest and greatest in hands-free control. They can be controlled by voice assistants like Google Home or Amazon Alexa, while others connect to Bluetooth and Wi-Fi to work with smartphones, tablets and hand-held remotes.
Progress Lighting has partnered with Smart by Bond to offer Wi-Fi-enabled technology that is compatible with any Progress AC motored fan, allowing for easy control of the on/off function, fan speed, dimming control, and remote scheduling with three different timer settings.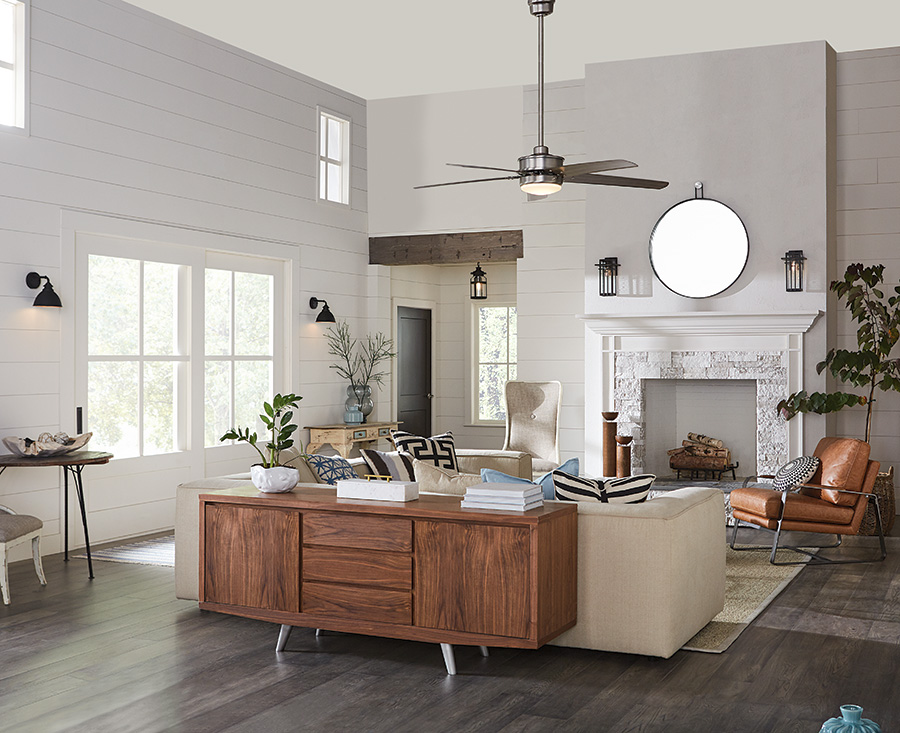 Light Kit: Since ceiling fans often replace a chandelier or other ceiling-mounted fixture in a room, consider installing a fan with an integrated light kit to provide the necessary ambient or general layer of light. For greater efficiency and energy savings, select a fan with an LED light source: they use at least 75% less energy than incandescent lighting, and they last 35 to 50 times longer than incandescent bulbs. Progress fans and lights kits use only LED light sources. However, if your space is already well-lit with plenty of light sources, a ceiling fan without lights may be a better fit.
Reversible Motor: Typically, ceiling fans cool a room and keep the air flowing using a counterclockwise blade direction. However, by reversing the direction of the motor, fans can also keep a room warm. Select a fan with a reversible motor for year-round comfort. Most ceiling fans have a small switch located either on the motor housing or the switch cup.
Certifications: Dry, Damp and Wet Location: All ceiling fans sold in the United States have been tested and rated for indoor or outdoor use. Dry ratings are for indoor-only use. Damp ratings are necessary for fans installed in an outdoor covered area, as the motor and the blades can be affected when exposed to humidity. Wet ratings are given to fans that come into direct contact with water, and they feature elements such as moisture-resistant motors and all-weather blades. Do not use dry or indoor-rated fans outside. However, it's perfectly acceptable to use damp and wet-rated fans inside.
Visit the ceiling fan section of our website, where we share tips on getting the height right, sizing the fan to your room, blade options, finish colors, and of course, to shop our stylish ceiling fan selections.