Modern Farmhouse. It's a design trend that we can't say enough about! That's why we love the work of builder/designer duo Nolan and Jayme Fridley of Fridley Homes: they have a signature, Modern Farmhouse style of clean surfaces paired with vintage, homey elements that we love – and we think you'll love it, too.
We worked with them recently on their local Tour of Homes show house in Salem, OR. "Every nook and cranny of this home was planned intentionally, not only to showcase our work as a custom builder but to create a homey, peaceful feeling that loops back to the heart of the home, which is the kitchen," said Jayme.
Jayme began the kitchen design plan by selecting the anchor pieces of cabinet color and style, followed by countertops and tile. Then, Jayme accessorized the design with lighting, selecting a pair of oversized Blakely pendants in the same mixed metal theme used throughout the home.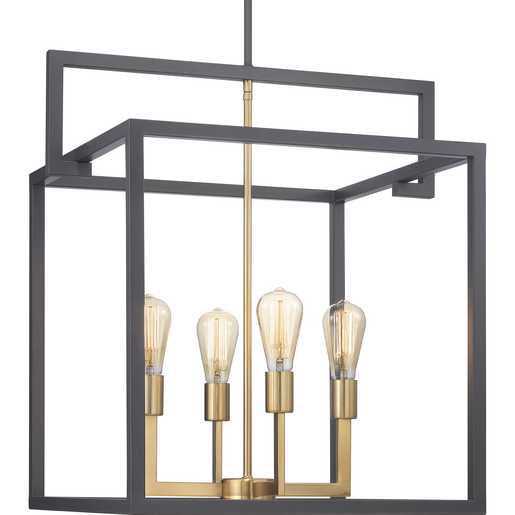 "We wanted to feature the brushed gold that is on-trend but keep it grounded by using a classic black as well. These lights checked all the boxes of our favorite elements; big, bold, trendy, timeless, but memorable," Jayme said. She then added accessories like the classic black bar stools that play off the lighting design.
However, as Jayme says, "To us, the kitchen is not just a pretty face. We focus on intentional layout and design that has function and storage as the key criteria. I map out the kitchen's footprint in the design phase to maximize the utility of the space."
With that philosophy in mind, the Fridley's wholeheartedly endorse the use of cabinet drawers to augment or even replace traditional cabinet storage to maximize organization, usability and comfort. 
Because this kitchen has a smaller footprint, Jayme chose open shelving to keep it airy, make it feel larger, and to layer in decor pieces to set the style tone. "To add back some of the lost storage, we incorporated a built-in hutch in the dining room. It provided instant charm and a ton of storage."
Jayme feels that cabinet and countertop colors are the foundation for the kitchen's style. She wanted this kitchen to feel soft and nostalgic, so she incorporated a warm putty gray cabinet color on the perimeter. To keep the gray from feeling too sterile or washed out, Jayme brought classic warmth into the palette with a wood island topped with white quartz top and black leathered granite countertops. 
Her choice of backsplash tile is another critical element of the color story. Jayme likes to layer in interesting materials and finishes that create visual impact while keeping the overall palette neutral. The wavy subway tile she selected has a simple charm that gives the nod to both vintage and contemporary details. 
Finally, the show house was staged with finishing touches to underscore the design themes used in the building process. The vintage items incorporated on the open shelving are storytellers that repeat the imperfect lines of the tile. Fresh greens and organic pieces are elements that "keep it grounded and make it feel like home, adding life and color," said Jayme.
Mixed metals are a trend that lends a cohesive feeling throughout the home. Shop Jayme's pick of Blakely pendants here.