Warm. Cozy. Comfortable. Soothing. These are a few of the words that come to mind when describing the trend towards the natural, modern organic interior design style that is so popular today. Wood tones, greenery, natural textures, and calming colors from nature are some of the forms and materials used in this look. These tactile materials and neutral tones balance with modern lines and shapes in furniture and décor. Love modern organic style? Here's how to get the look.
How to Achieve Modern Organic Style
Modern organic style is all about clean lines and an uncluttered interior. Minimal décor takes over from kitsch and clutter. Homes feature a more neutral color palette, and the design emphasis is placed on the building materials for texture. From smooth glass to rough stone, chunky woodwork and textured concrete, the building materials become part of the decor. Rather than covering up the home's details, a tranquil color scheme allows the textures of the materials to shine.
Trends in Modern Organic Furniture and Lighting
Look for comfortable seating with curving lines that play off the minimal lines of the tables, bookshelves and other furniture in the room. Include rugged architectural elements like rough wooden beams and distressed fireplace mantels that complement a stone fireplace façade. Accent the room with cushions and throws in chunky, natural textiles. The idea is to soften the edges of an otherwise minimal modern aesthetic.
New lighting options abound for modern organic style. Here are some of the materials you'll see used to create lighting fixtures that bring the outside in, creating a carefree, comfortable aesthetic.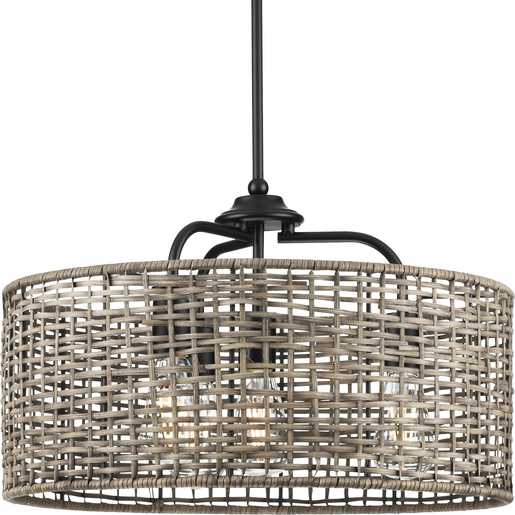 Rattan and Wicker
Select from pendants, chandeliers and sconces with open woven shades in natural fibers like rattan and wicker. The Lavelle Collection combines artistry and texture with a softly curved frame that complements the airy open weave of the earthy hues of the mocha-colored rattan shade.
Wood
Environmentally ethical wood is a fresh choice for lighting designs. Washed, bleached oak, textured and cerused finishes on real and faux wood frames enhance many new fixtures. The various faux wood finishes on the popular Briarwood collection fixtures lend a charmingly organic look. Other fixtures that showcase a wooden texture include the Hedgerow collection, the new Gulliver flush mount, and the spherical, bold Lockhart pendant.
Looking for a ceiling fan? Try Kaysville, whose modern industrial style is complemented by grey weathered wood blades.
Lighting fixtures with details like wooden bead swags bring a polished look along with a rustic touch. The Vinings chandelier has a frame with graceful scrolling arms accented by ornamental, hand-painted gray washed oak faux wood beads.
Stone and Concrete
Both genuine and faux stone and organically textured glass are seen as accents on fixtures or even used as the dominant material, infusing dimension and style into the piece. Terrazzo is created from a polished sandstone concrete composite shade flecked with earthy jewel tones to offer a sophisticated contrast to a room. The new Mill Beam collection is constructed from faux concrete, giving an unexpected artisanal edginess and the perfect blend of organic and industrial character. 
Nature-Inspired
The stunning Mariposa collection has an organic inspiration that's balanced by the minimalist lines of its multi-directional light arrangement. Slender branches bloom outward from the central stem bearing delicate leaves coated in a luxurious antique gold finish.
Want to explore more interior design styles? Discover them here.