Exposed lightbulbs may have started as a fun trend in the design world, but it's become a trend with staying power. The bulb has become more than a way to provide light.  Now, it is a part of the fixture design itself.
"Lighting fixtures today often feature an open exposed lightbulb. You can express your personality by  selecting a decorative light bulb: it sets your light fixture apart and capturing your distinctive style," said Colleen VIsage, VP Brand Development for Progress. 
Choose Bulbs Wisely
Choose the proper bulbs for your fixtures. Decorative lightbulbs distinguish and create a statement piece that offers a finishing look to a room's design. Try:
A classic filament A-19 bulb to create a timeless look
An ST-64 Amber Vintage style lightbulb for an industrial feel
A clear filament ST19 bulb to complement a casual look
Unique T-style or G-shaped lamps to create a contemporary vibe.
Fixture Trends for Exposed Bulbs
While designs that exposed the bulb were first found in industrial and vintage-style light fixtures, the trend has evolved to include transitional, coastal, contemporary fixtures, and even traditional lighting. 
Clear glass shades and globes are enjoying a beautiful moment in lighting fixture design. Their crisp, clean look highlights the bulb choice and works well across many design styles, from modern to traditional. Clear glass fixtures add to the sense of natural light flowing across a room, making them winners in kitchens and bathrooms. Hang several Atwell pendants above an island, and try the Aiken vanity light in the bath for Modern Farmhouse flair.
Mid-century Modern fixtures tipped with clear glass bulbs get an extra sparkle and an elegant modern twist. Thorpe combines an iconic starburst form with clean metal, clear glass and faux wood lines, adding a playful ambiance to mid-century modern style.
Open cage designs in lighting make the light bulb part of the design, creating a natural focal point for the lightbulb. Hedgerow showcases candelabra bulbs peeking through a windowpane design. The Belva fandelier's cage design enclosed vintage-style bulbs plus three fan blades for organic charm with a coastal feel.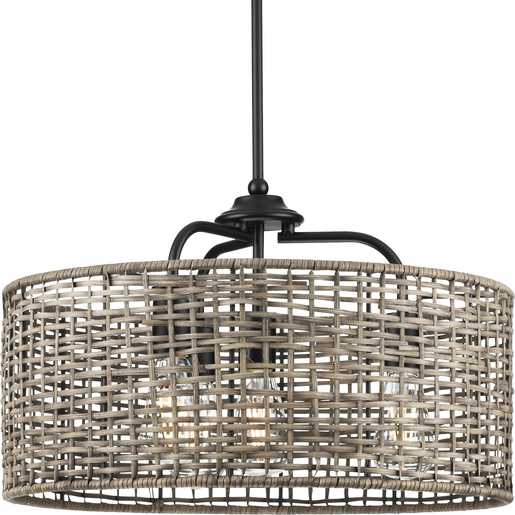 Metal shaded pendants, sconces and ceiling lights not only get a cool edge with exposed bulbs, but the shade's interior also is reflective, increasing the overall brightness cast from the light. The Hinton pendant above a desk or nightstand adds focused task lighting with a modern industrial character.
Exposed bulbs add a subtle finishing touch to organic designs. Organic-style fixtures that feature faux or real wood, wicker or rattan, and other natural materials softly diffuse the light from the bulbs, balancing any harshness from the light source and creating a warm and wonderful glow. Mariposa has slender leaves illuminated by minimalist multi-light exposed bulbs. Lavelle's light sources offer a gentle glow through a rattan shade.
One final word of advice: Experiment! With so many shapes and sizes available, a fixture's look can be changed dramatically just by changing the bulb.