Summer is coming, and what better way to celebrate than with the launch of new lighting fixtures and ceiling fans? We're debuting our Summer 2021 collection next week! Here's a sneak peek of fresh new lighting and ceiling fan designs coming your way on our website, and at local lighting showrooms and online retailers this summer.
Organic: A Trend With Staying Power
The natural, modern organic interior design style trend has proven staying power, and new lighting options abound. Tactile materials and neutral tones balance with contemporary lines and shapes in lighting, furniture and décor. Chastain draws upon the handcrafted artistry of basket-weaving with an open, airy frame and a distressed faux wood finish. Its impressive scale delivers an eye-catching element of form and function. 
Chastain
Lighting for Outdoor Living
Terrace
Outdoor spaces have become an extension of the home's interior style. Outdoor-rated pendants and wall lanterns provide a decorative accent and soft lighting for conversation and dining areas. The Terrace pendant furnishes an elegantly rustic focal point, with its captivating circular silhouette highlighted by a coppery-bronze woven accent band. The Whitmire wall light brings a touch of cabin charm with wood-tone bands that accent and frame a clear, seeded glass shade.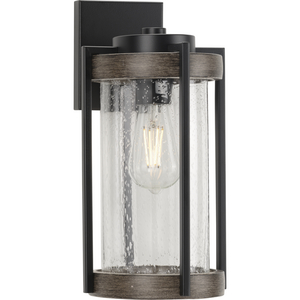 Whitmire
Designs for Well-Lit Baths
Calhoun
Bathrooms have become a sanctuary, a much-needed place to unwind from everyday life. New lighting designs support this trend with elements, finishes and styles that turn an ordinary bath into a relaxing retreat. Calhoun is antique-inspired, featuring a mechanical latch detail and a thick, vintage-style glass shade, bringing a classic handmade appearance to the fixture. 
Adley
Close-to-Ceiling Style
Carrying the clear glass trend further, Progress Lighting is launching ceiling fixtures defined by their clean lines and bright materials that makes them at home across various interior design style. Adley brings modern sophistication to various settings, with a clear glass paired with a sleek frame for visually stunning illumination. Aiken mixes delightful vintage details with clear glass to create contemporary charm.
Aiken
Indoor-Outdoor Ceiling Fans
Belva
Ceiling fans have come into their own as a fashionable décor element of indoor and outdoor spaces. A relatively new concept in ceiling fan design, fandeliers combine a ceiling fan's function with the style of an overhead lighting fixture.  The Belva ceiling fandelier offers coastal charm with its lattice-like, natural wicker frame enclosing a trio of fan blades and vintage-style bulbs. 
Kennedale is classically styled with protected, faux wood finished reversible blades, presenting a substantial look perfect for cooling large spaces inside or out.
Kennedale
Shop our new styles! Visit your local lighting showroom, or shop online.