Summer is almost here, and so are leisurely evenings spent outside on your porch or patio. Today's outdoor living spaces look as beautiful and feel as comfortable as indoor living areas, and new, outdoor-rated lighting options abound. These outdoor pendants, chandeliers, hanging lanterns and wall sconces are a must-have to create the ideal ambiance for your outdoor space.
However, with these new lighting options comes old dilemmas: what size is best? What's the right hanging height? We have the answers! Here's our sizing and hanging guidelines to get you started.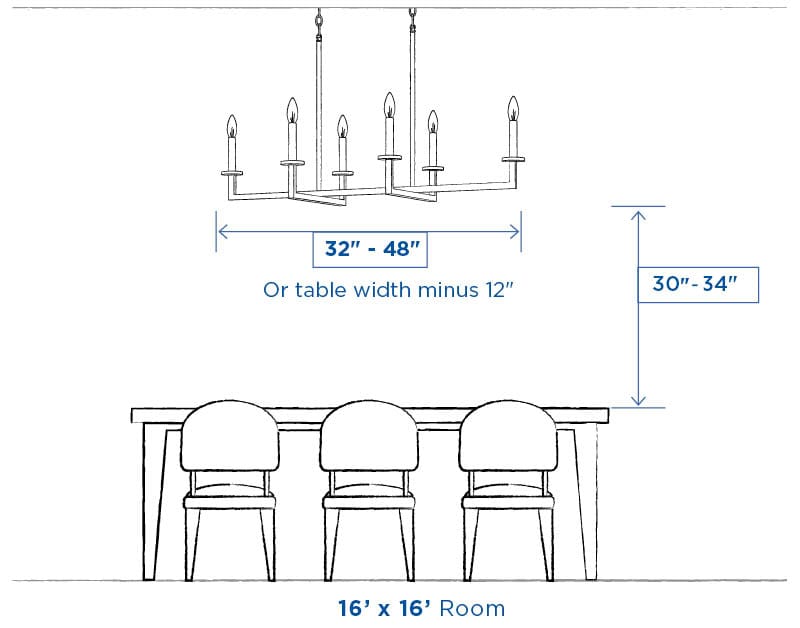 In the Dining Area
There's nothing better than sitting down with friends and family to a leisurely meal al fresco. Just like indoors, the table under the fixture should serve as a guide for selecting the right pendant or chandelier. To calculate the correct width, start with the width of your table and subtract 12". For example, if your table is 42" wide, your chandelier should not be more than 30" wide. Install it so the bottom of the fixture hangs between 30" – 36" above the table.
Over a Bar or Outdoor Grilling Area
A row of pendants hung over a bar or over the countertop of a grilling/cooking area is a delightful addition to your outdoor entertaining space. First, measure the countertop length. Then, start the row 12″ – 15″ in from either end. Space the pendants evenly within that span, around 24″- 30″ apart from one another (depending on style & quantity). Hanging height guidelines are the same as for dining tables: keep 30″ – 36″ of space between the countertop and the bottom of the fixtures.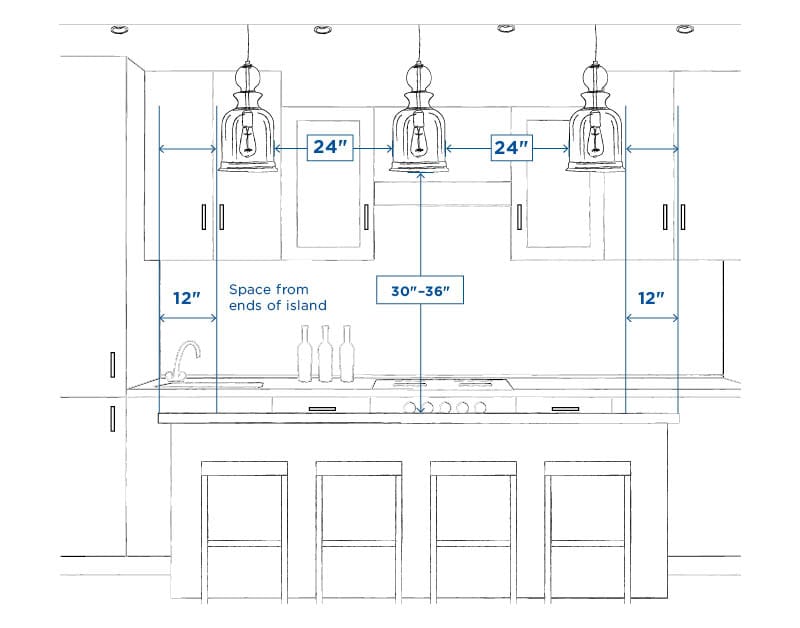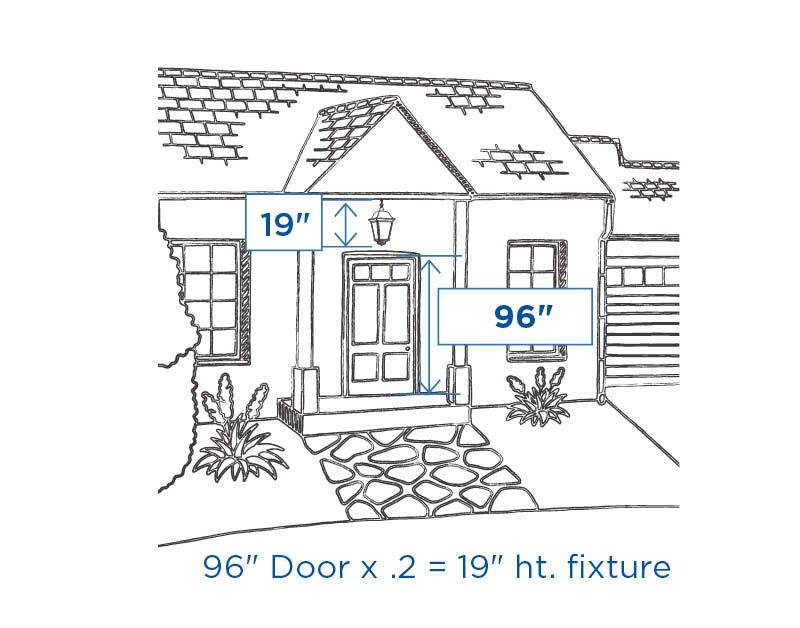 Hanging Lanterns for Ambient Light
Traditionally used on front porches and entranceways, hanging lanterns can be installed as an overhead light in the center of a covered patio, pergola or porch. The bottom of the fixture should measure a minimum of seven feet from the ground. Since hanging lanterns incorporate chain or stem connections, be sure to consider their additional length when measuring.
If you are hanging the lantern near a doorway, give six inches minimum clearance from the bottom of the lantern to the top of the door to allow the door to open and close. If there is not enough clearance, consider using a flush mount outdoor fixture.
Wall Lanterns as Accent Lighting
Available in styles from Modern, Farmhouse, Industrial and just about any design trend to fit your home, wall lanterns are enjoying a new life as accent lighting sconces for outdoor living. Install a pair on either side of the doorway leading out to the patio or porch or flank a feature like a fireplace or bar area. A single fixture can be installed on a wall as a dramatic accent piece.
Mount wall fixtures 66 inches from the center of the fixture straight down to the floor.  For fixture size, if you're using two wall fixtures, the appropriate lantern size is approximately 1/4 the height of the door or feature they are next to. For example, if the door measures 80", select a fixture that is approximately 20" high. Single fixtures used as an accent can be any size you like.
Shop all outdoor lighting here.