Brushed nickel and chrome—move over! Gold-toned finish colors are here to stay. Today, metallics are an essential décor element, and warm finishes offer extra sparkle and a luxurious dimension to lighting designs across the board.
There are many shades of gold-toned finishes available for lighting, from classic brass to vintage gold. The finishes vary in sheen and texture, making them well-suited many décor schemes and various color palettes. Their warm gold color is a natural fit with deep, jewel tones like blue and purple and saturated red-orange hues, creating a rich appearance in a traditional or luxe room. Pair brighter golds with neutral, blue or gray color palettes to add a luxe pop to a modern space. For vintage interiors, select lighting finished in gold with a brushed or aged patina to create a collected-over-time feel.
Our Favorite Gold Finishes
---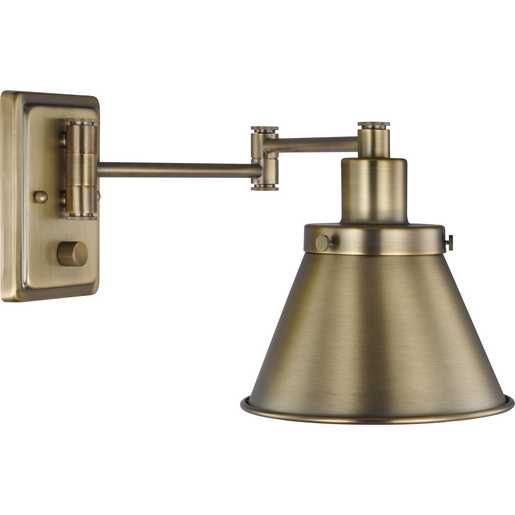 Vintage Brass
This finish glows with a finely brushed, mellow antiqued brass patina. The Hinton Swing Arm Wall Light shows it off nicely, with an industrial-inspired metal shade, adjustable arm and sturdy square backplate all coated in Vintage Brass.
Brushed Bronze
With a subtle brushed texture on soft golden bronze, the Brushed Bronze finish beautifully enhances the Atwell One-Light Pendant. This statement lighting design features an intricate blend of architectural design elements surrounding a modern clear glass globe.
Vintage Gold
Burnished gold with a subtle metallic sheen creates a luxe finish ideal for many room settings.  The Cayce Three-Light Pendant has a capsule silhouette showcasing an interior candelabra cluster banded by an interlocking hexagonal design, both enhanced by a shimmering Vintage Gold finish.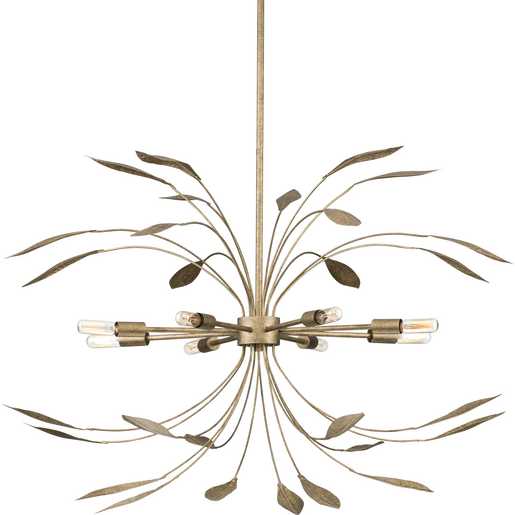 Antique Gold
A gracefully aged patina on warm gold is the hallmark of our Antique Gold finish. The slender branches of the Mariposa Eight-Light Pendant bloom outward from the central stem bearing delicate leaves whose luxurious Antique Gold finish shines softly throughout the fixture's organic design.
Natural Brass
Natural Brass is a warm, distressed brass finish that offers classic appeal. The Penn One-Light Pendant is a modern take on vintage electric design, with a clear glass globe surrounding an exposed bulb socket and fittings highlighted by its Natural Brass finish.
Brushed Brass:
Deep, rich brushed texture on warm brass highlights the gently curving, two-tone metallic shades that articulate outwards from the Brushed Brass center column of the Jeffrey Alan Marks Point Dume™ Wandermere Eight-Light Chandelier. With elegantly outstretched arms and the subtle grace of a Calder mobile, Wandermere balances a modern symmetry of form and substance to redefine architectural spaces.
Satin Brass
Satin Brass glows with a soft brass color and a smooth satin appearance. The Adley Three Light Vanity fixture is adorned with a golden Satin Brass finish on its curved backplate and arms.
Whatever your design style, we have gold-finished lighting to match!