Fresh, light and appealing, white finishes on lighting fixtures are a bright new trend. Shades of white are the go-to favorite in many interior design plans. Now, white lighting fixtures are having a well-deserved moment, and here's why.
White is easily integrated into any design scheme, from traditional to modern to coastal and more. White accents do wonders to brighten up a dark interior. A white fixture is luminous enough to boost visual interest in a room with a neutral color palette without being overpowering.
While white is known for bringing a modern edge to Contemporary rooms, it's also great for other design styles. In Coastal interiors, white serves as a background for sea-inspired blues and greens used throughout the space. In Traditional and Transitional rooms, layering shades of white can add a cozy and warm feel. Farmhouse interiors use touches of weathered white to bestow a vintage feel. Modern Farmhouse refreshes country elements with white and combines them with clean lines, creating a relationship between old and new.
We've taken some of our favorite, white-finished lighting fixtures and matched them up to design trends.
Modern: Pivot Chandelier and Curve Wall Sconce
A satin white finish on the clean and contemporary Pivot chandelier highlights its architectural form, making it the star. The eye focuses more on the fixture's shape than its color. The Curve sconce in white has a sleek style that blends seamlessly with a white wall or makes a statement against a darker palette.
Coastal: Shearwater Pendant and Surfrider Sconce
Light up a room with these two fixtures from our Point Dume™ collection by designer Jeffrey Alan Marks. Their cool, coastal style not only illuminates a room but sets a seaside tone. The Shearwater wall lantern is trimmed with a signature Maliblue accent, giving an unexpected pop of color inside the roof of the fixture. The Surfrider sconce is finished in a crisp white for a glossy reflective surface, presenting glowing highlights when the fixture is lit.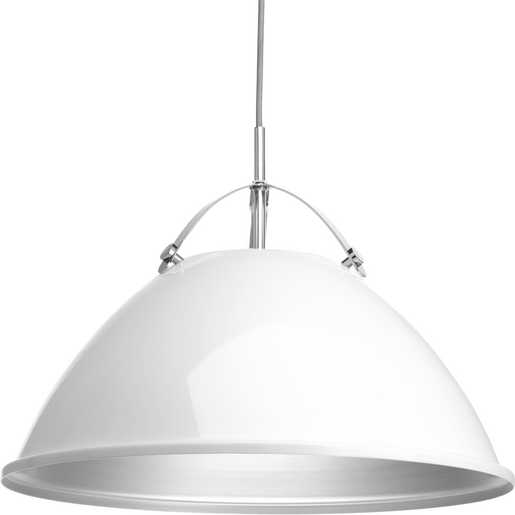 Modern Farmhouse: Tre Pendant
Light up a room with white that refreshes Modern Farmhouse décor. The Tre pendant features a white dome shade with vintage-inspired detailing outside and a reflective silver surface. The combination creates a contemporary take on a farmhouse style.
Transitional: Ryne Fan
The Ryne fan creates the perfect balance of minimalism and style that's ideal for Transitional homes. Finished in white, it delivers a relevant, modern touch to an indoor ceiling or becomes a focal point of an outdoor covered area.
Farmhouse: Belva Fandelier
Whites and other soft neutrals work well with Farmhouse style. With its lattice-like, natural wicker frame finished in cottage white, the Belva fandelier speaks to the homeowner who loves to combine vintage pieces and weathered furnishings to create interiors that showcase antique charm.
Let us help you explore your style here.